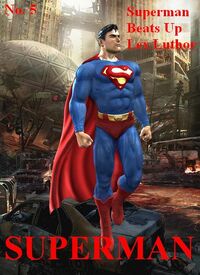 Superman #5 is another monstrosity produced about Superman. It is number five, which means it was released fifth. I hope you can wrap your puny little head around that.
Lex Luthor Strikes Back
Edit
After Clark Kent causes another toilet to explode next door, Lex Luthor decides he's tired of the Daily Planet's crap (literally). He gets in a robot suit and attacks the Daily Planet building. Little does he know that Clark Kent is actually newly emerged superhero Superman. When Luthor attacks, he gets attacked by Superman and the robot suit explodes. This is what started the feud between Luthor and Superman: exploding toilets.
Appearances
Edit
Rise of the Aliens
Edit
Superman is flying around the galaxy when he sees a UFO. Deciding Frisbee sounds like fun, he flies over to it and hurls the innocent aliens off into the distance. Three days later, the aliens attack Earth. Superman flies up to the UFO, makes his eyes glow all red, and says "boo". The aliens fly away, leaving behind their sacred ark.
Appearances
Edit