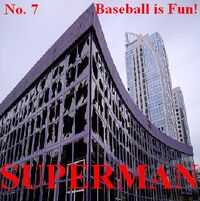 Superman #7 is a comic book in the Superman (comics) series. This comic book introduces Brainiac, one of Superman's most infamous foes.
Superman Goes On Jeopardy!
Edit
Superman decides being a flying alien/Jesus isn't cool enough. He decides he needs to be a Jeopardy! champion too. He enters in Jeopardy!, but he is facing tough competition. Not only is he facing a nerd, but he also has to face a super-smart computer-like alien called Brainiac.
After half an hour of intense trivia answering, the two are dead tied. Then the final Jeopardy question comes up: "This is Superman's secret identity." Both Superman and Brainiac get it wrong, costing them all of their points. The nerd gets it right (with the answer Kal-El), giving him the win.
Brainiac is furious, so he kills the nerd. Superman decides he should probably stop Brainiac, so he punches Brainiac right in the face. This instantly defeats Brainiac because Superman is so strong.
Appearances
Edit
Superman Plays Baseball
Edit
Superman is bored, so he grabs a baseball bat and gathers a team. Superman attempts to bat, but he accidentally breaks a window. Except the ball doesn't hit the window. When Superman hits the ball, it creates a sonic boom that wipes out every window. Superman then punches Lex Luthor because he's the bad guy.
Appearances
Edit